Best organic pillows Made in the USA are a must-have for those who are health-conscious and want to live an eco-friendly lifestyle. These pillows provide a natural and comfortable sleep experience while also being environmentally friendly for your bedroom. The USA is home to many companies that specialize in making high-quality organic pillows, so you have plenty of options to choose from.
When it comes to the material used for organic pillows, there are several choices such as cotton, wool, latex, and buckwheat.
Cotton is soft and breathable, while wool is naturally hypoallergenic and provides excellent insulation. Latex is known for its durability and supportiveness, while buckwheat hulls conform to your head and neck shape providing optimal support. With all these options available, you can easily find the perfect organic pillow tailored to your preferences.
Pros and Cons of Organic Pillows
Organic pillows – what do they offer and what should you know?
Pros and cons of using them:
Pros: Natural materials like cotton, wool and down feathers are used. Hypoallergenic and free from harsh chemicals, making them a safe choice for those with allergies or sensitivities.
Cons: Costly than traditional pillows. Not as supportive as other types. Special care is needed to maintain their shape and quality.
You must read the label and research the company before buying. Look out for certifications like GOTS or GOLS. These ensure the pillow meets organic content and production standards.
Choosing the Best Organic Pillows Made in the USA
Taking the time to do research and selecting a brand that you can trust can make a significant difference in ensuring a sound and peaceful sleep. If you're going to rest your head on something, it might as well be made of the best organic materials the USA has to offer.
1. Importance of Materials
Organic pillows are all about the materials used. Quality materials mean breathability, softness, and durability. So, choosing wisely is key! Organic cotton, wool, Kapok fiber and latex are the best choices. Wool is warm, but not suitable for warm climates. Latex is durable, but might be too firm. Kapok fiber is fluffier than down feathers and great for allergies or asthma.
When selecting a pillow, know your sleeping position, body size, and preference. Stomach sleepers need low loft pillows. Back sleepers need medium loft. Side sleepers need high loft to support the neck. Organic materials not only provide comfort, but also help the environment. GOTS certifies the manufacturing process for eco-conscious consumers.
A study at the University of Manchester showed that natural fibers like organic cotton can improve sleep due to breathability and moisture absorption. Comfort and support are essential for a good night's sleep. Check also fixing Sunbeam Electric Blanket Blinking
2. Comfort and Support
When picking organic pillows from the USA, comfort and support are key. The pillow should be soft, yet supportive. Loft options should be adjustable. Plus, the size is vital – it should keep its shape for a long time. Breathability is also a must, for proper air circulation. Consider the type of sleeper you are – back, side or stomach – and pick accordingly.
Examine certifications such as GOTS, Oeko-Tex standard 100 and Control Union for quality assurance. Lastly, check washing instructions, as organic pillows may require special care. Size matters – pick the right one to sleep soundly! Check also: USA Made Memory Foam Mattresses.
3. Size and Shape
When picking organic pillows for size and shape, there are many options to choose from. Check out this table with popular choices:
| Size/Shape | Features |
| --- | --- |
| Standard | 20″ x 26″ with a medium-firm fill |
| Queen | 20″ x 30″ with a medium-firm fill |
| King | 20″ x 36″ with a firmer fill for added support |
| Body Pillow | Long shape for full-body support and alignment |
Take into account personal preferences and sleeping habits when deciding. Some pillows offer customizable fill level too.
Pillows have been used since ancient times. The first was made of stone, wood or ceramic. Now, organic cotton and latex are used.
Save the money and get an organic pillow made in the USA – priceless!
4. Price Range
Organic pillows made in the USA come in different prices. Entry-level ones start at around $20-$30. Mid-range pillows are typically between $50 and $100. Higher-end ones can cost up to $200 or more. Extra features like fill material and thread count may cost extra. Bulk buying may reduce the overall cost.
Price isn't always an indication of quality. Research and evaluate each product before deciding. Other things like filling material and casing design also matter. Customization needs may incur extra fees.
One customer found their perfect organic pillow for neck pain after trying many from different manufacturers. They were happy with both the product and investment they made. Sleep on the best and help the planet!
Best Organic Pillows Made in the USA
Organic Pillows Made in the US: Professional Analysis
Organic pillows are becoming increasingly popular among environmentally-conscious consumers. When it comes to finding the best organic pillows made in the US, there are certain factors to consider. Here are some of well-known brand that we recommend you to check:
1. Coop Home Goods Eden Pillow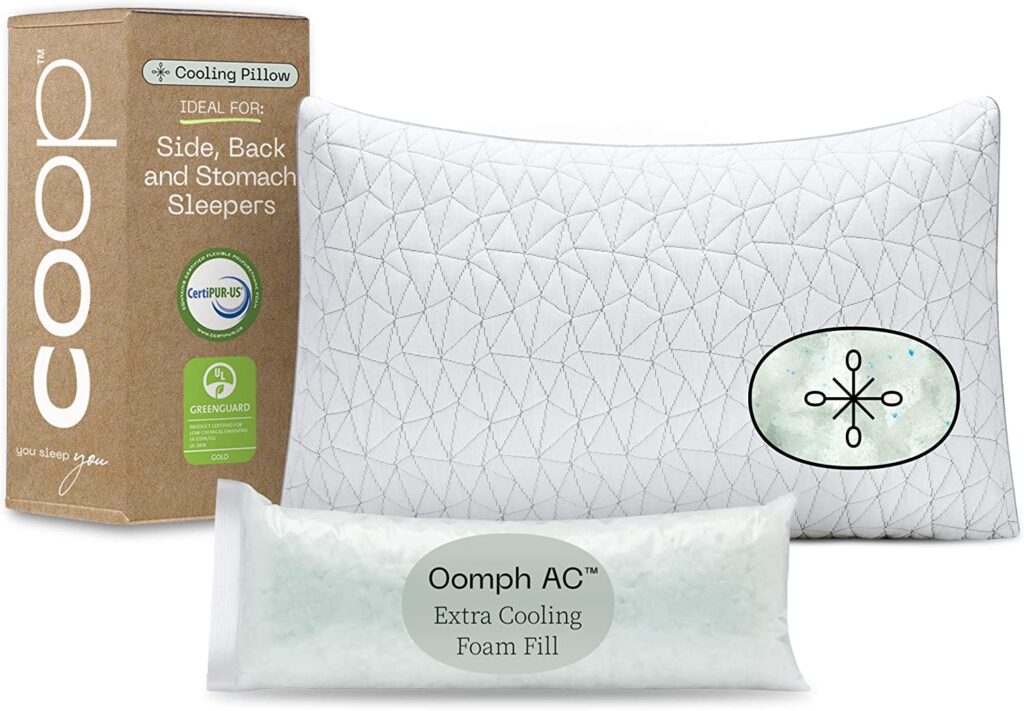 The Coop Home Goods Eden Pillow is an amazing pillow made in the USA. It's made with organic materials and crafted to give its users maximum comfort and support. So, it's one of the top organic pillows around!
What makes the Eden Pillow special?
Adjustable fill – you can add or remove filling to adjust the firmness.
Organic materials – bamboo-derived viscose and polyester cover, plus gel-infused memory foam fill.
Hypoallergenic – perfect for people sensitive to dust mites, mold, or bacteria.
It keeps getting better. This pillow has a machine washable cover. Plus, the design ensures good airflow – so no more overheating during sleep!
One customer said they had been suffering from chronic neck pain until they tried the Coop Home Goods Eden Pillow. It was like a miracle – their neck pain vanished!
2. Birch Organic Pillow
The Birch Pillow is an organic masterpiece! It's made from natural latex and organic cotton, providing great support for your neck and head. Plus, it's eco-friendly, hypoallergenic, and breathable. That means better sleep with less tossing and turning, so you can wake up feeling refreshed and rejuvenated.
What makes this pillow stand out? It's all-American, crafted with high-quality materials and handcrafted to perfection. Helix Sleep, one of the leading bedding companies, created this special pillow as part of their mission to revolutionize sleep. You can use this for Bed Alternatives for Small Spaces.
Experience a superior night's rest with the Avocado Green Pillow. Imagine laying your head on a grassy meadow – without the itchy skin and bugs! Get ready for optimal sleep quality in one unique package.
3. Organic Textiles Kapok Pillow
Organic Textiles' organic pillow uses Kapok, a natural material, instead of traditional synthetic materials. It supports and comforts the sleeper as it adapts to their shape and breathing habits. It's hypoallergenic, perfect for those with allergies or sensitivities to certain synthetic materials.
Kapok is also sustainable and plant-based, and harvested without chemicals. Organic Textiles guarantee a pillow that meets their environmental standards and supports your head and neck. Cotton covers avoid skin irritation and enhance breathability. Plus, you don't get unpleasant odors from trapped moisture.
Kapok has been abandoned due to mass industrial production methods, making owning an Organic Textiles Kapok Pillow exclusive. Enjoy ultimate relaxation without harming the environment. Sleep on a cloud made of organic latex with the PlushBeds Natural Shredded Latex Pillow.
4. Holy Lamb Organics Woolly Down Pillow
The Woolly Down Pillow from Holy Lamb Organics is a top-tier organic pillow made in the USA. Its combo of wool and down provides excellent support and comfort for those who value quality. It has natural lanolin, is highly breathable, and wicks away moisture. Plus, it's fire-resistant and machine washable.
Studies show that wool bedding can enhance sleep quality. Wool traps air between fibers, aiding body temperature regulation. This eco-friendly product has been granted the "Gold Standard" by the Sustainable Furnishings Council, who set rigorous standards for sustainability in the Home Furnishings Industry.
Available in standard, queen, and king sizes, the Woolly Down Pillow is hypoallergenic and suitable for everyone. So forget counting sheep – rest your head on this organic pillow and dream of cotton and corn!
5. Naturepedic Organic Cotton/PLA Pillow
The Naturepedic Organic Cotton/PLA Pillow is ideal for those seeking a natural sleep solution. It combines organic cotton and PLA fibers for a comfortable and eco-friendly slumber. The organic cotton cover is gentle on skin, while the PLA filling adds softness and breathability. Plus, it meets rigorous health and safety standards.
What makes this pillow unique is its blend of organic cotton and innovative PLA fibers made from renewable plant starches. This combination yields a pillow that's soft, supportive, and breathable. And, the pillow's components can be separated for washing or replacement – ensuring long-lasting use.
6. Saatva Pillow
This luxurious pillow is crafted with organic, eco-friendly materials and is a dream come true for eco-conscious sleepers. The Saatva Pillow provides support for all sleeping positions and its breathable design ensures a sweat-free sleep. It's easy to maintain as its cover is machine washable. Plus, this pillow is made in the USA.
The pillow's organic latex fill offers softness and support, which helps alleviate pressure on the neck and shoulders. The GOTS certified organic cotton cover gives a silky feel, further promoting comfort. It's free of synthetic materials and additives, great for those with allergies or worries about harsh chemicals.
It has a unique adjustable feature, allowing you to customize the loft level to fit your exact needs. Whether you're looking for more support or a plush feel, this feature makes it easy to create an ideal sleep experience. One customer experienced a reduction in chronic neck pain and deeper sleep after switching to the Saatva Pillow.
Overall, the Saatva Pillow is one of the best organic pillows available. Its sustainable production process appeals to conscious consumers without compromising on quality or comfort. At last, a pillow that won't make you feel like you're sleeping on recycled plastic bags – it's the organic dream we all deserve.
Conclusion
When searching for organic pillows made in the USA, personal preferences and needs must be taken into account. Support or softness? Fill material, firmness level, breathability?
Research reputable brands that prioritize sustainability and ethical practices. Avocado Green Pillow, Coyuchi Organic Latex Pillow, and Boll & Branch Down Alternative Pillow are highly rated. Each has unique features such as adjustable fill, natural materials, and hypoallergenic properties.
Organic pillows may cost more than conventional ones. But, they're healthier and better for the environment. Consumer Reports found 80% of pillows may contain toxins like formaldehyde and flame retardants. Investing in an organic pillow eliminates exposure to these toxins.
In conclusion, carefully consider individual preferences and values when selecting the best organic pillow made in the USA. Enjoy a restful sleep and contribute to positive change for our planet.