Are you in the market for a new sleeping bag? Consider purchasing sleeping bags Made in USA. Not only will you be supporting American businesses, but you can also trust that the quality and craftsmanship of these sleeping bags will exceed expectations.
One of the advantages of buying a Sleeping Bag Made in USA is that they are typically made with higher quality materials, such as down feathers or synthetic fibers. These materials provide better insulation and warmth, making them ideal for camping trips during colder weather conditions.
Choosing a sleeping bag made domestically also means that you can easily replace or repair any parts if needed, ensuring your investment lasts for years to come.
One popular brand of USA-made sleeping bags is Western Mountaineering. Their products are crafted from top-of-the-line materials that are lightweight, compressible, and warm.
Another great option for those seeking American-made sleeping bags is Feathered Friends. This Seattle-based company has been handcrafting their down-filled sleeping bags since 1972 with an emphasis on quality craftsmanship and attention to detail.
Best Sleeping Bags Made in USA
If you are an outdoors enthusiast, one of the most important items in your gear collection is a high-quality sleeping bag. And if you're looking for the best sleeping bags made in the USA, you've come to the right place!
There's no doubt that American-made products are known for their durability and reliability, and this holds true for sleeping bags as well. Here are our compilation of best sleeping bags Made in USA!
1. Western mountaineering sleeping bags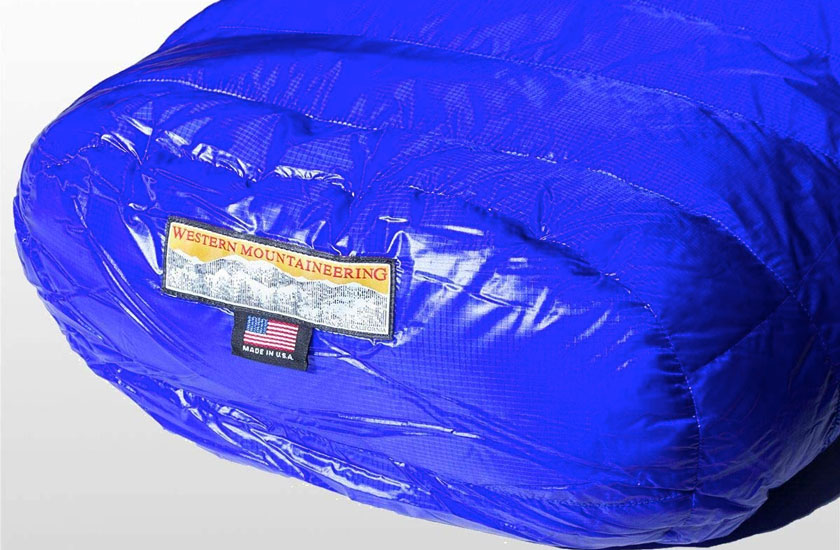 Western Mountaineering, a leading manufacturer of sleeping bags in the United States, has been producing high-quality sleeping bags for over 50 years. Founded in Northern California, the company has remained committed to crafting durable and reliable sleeping bags that can withstand extreme weather conditions.
With over 30 different models available on the market today, Western Mountaineering's sleeping bags are some of the most sought-after products in the outdoor industry.
One of the key factors that make Western Mountaineering's sleeping bags stand out from competitors is their dedication to using only high-quality materials. Unlike many other brands that source their materials from overseas, all of Western Mountaineering's products are made entirely in the USA. This not only ensures a level of quality control but also supports local businesses and communities across America.
Whether you're planning a weekend camping trip or embarking on a multi-day backpacking adventure, Western Mountaineering's line of sleeping bags can provide you with the warmth and comfort you need to get a good night's sleep in any conditions.
2. Coleman Sleeping Bags made in usa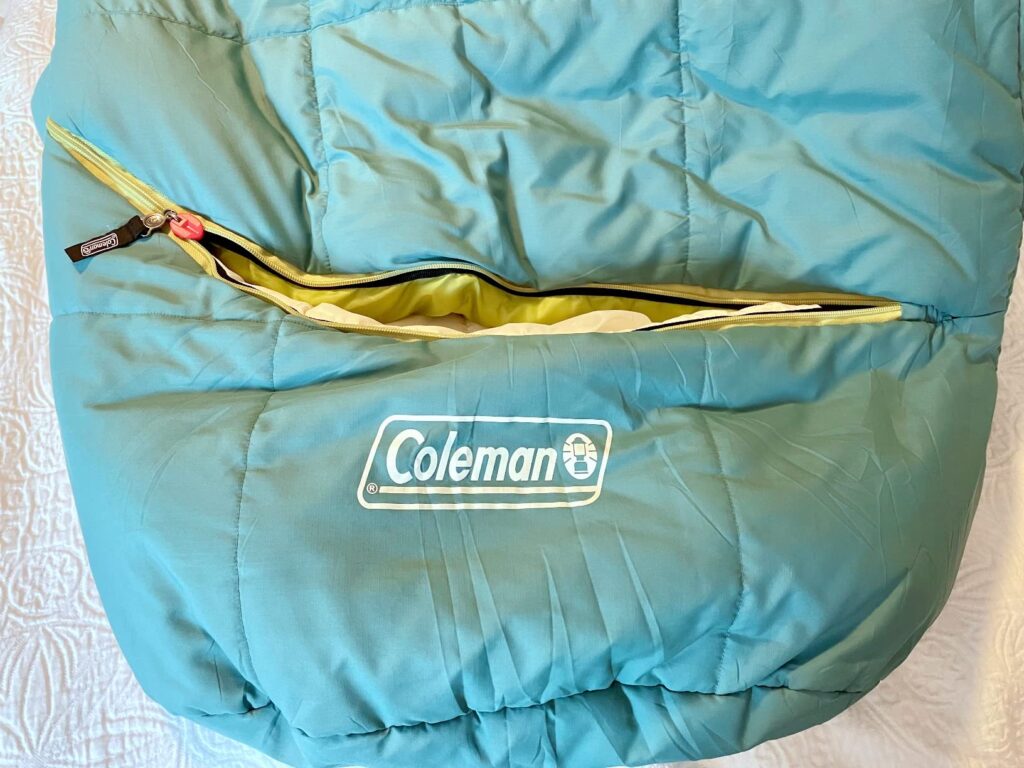 Coleman is a brand that has been providing reliable outdoor gear for over 120 years. They have always put the comfort of their customers first, and their sleeping bags are no exception. Their products are designed to keep you warm and comfortable in different kinds of seasons, whether it's summer or winter.
One of the unique features of Coleman sleeping bags is that they come in different temperature ratings. This means that you can choose a bag based on the temperature range you'll be encountering during your camping trip. Whether you're dealing with sub-zero temperatures or milder climates, Coleman has got you covered with a variety of options to suit your needs.
For those camping in the winter months, Coleman's Extreme Weather Sleeping Bag is designed to keep you warm in temperatures as low as -25°F. On the other hand, if you're planning a summer camping trip, the Brazos Cold Weather Sleeping Bag is perfect for temperatures between 20-40°F.
Another great thing about Coleman sleeping bags is that they offer different styles to choose from. You can opt for a traditional rectangular shape or go for something more snug like a mummy bag. There are even hybrid styles available if you want something in between. This can also become a bed alternatives for small spaces.
3. LL bean sleeping bags
L.L.Bean has been a trusted name in outdoor gear since its founding in 1912 by Leon Leonwood Bean. The company's flagship store is located in Freeport, Maine, where visitors can explore the extensive selection of high-quality sleeping bags made in the USA. With over 50 different catalogs and an online store, L.L.Bean caters to adventurers and campers alike.
Whether you're planning a backpacking trip or car camping adventure, L.L.Bean has a sleeping bag to suit your needs. From lightweight summer bags to heavy-duty winter options, their selection includes something for every season and climate.
Plus, with their commitment to domestic manufacturing, you can feel good about supporting American-made products when you purchase an L.L.Bean sleeping bag.
Whether you're an experienced camper or just starting out on your outdoor journey, LL Bean's collection of sleeping bags has something for everyone.
4. Enlightened Equipment Sleeping System
Enlightened Equipment sleeping bags are a testament to the power of passion and determination. Founded by Tim Marshall in 2007 in Winona, Minnesota, the company has grown from humble beginnings in a basement into one of the most respected brands for ultralight backpacking gear. With an unwavering focus on quality and innovation, Enlightened Equipment has become synonymous with excellence.
One of the key aspects that sets Enlightened Equipment apart is their commitment to manufacturing all their products in-house, right here in the USA.
This means that every sleeping bag is made with care and attention to detail by skilled craftsmen who take pride in their work. The result? A range of sleeping bags that not only exceed expectations but also support local jobs and industries.
Enlightened Equipment's success story is inspiring for anyone who dreams of turning their passion into a successful business venture. Their products include not only sleeping bags but also quilts, jackets, USA Made Memory Foam Mattresses and other accessories that are essential for any hiker or backpacker.
5. Feathered friends sleeping bag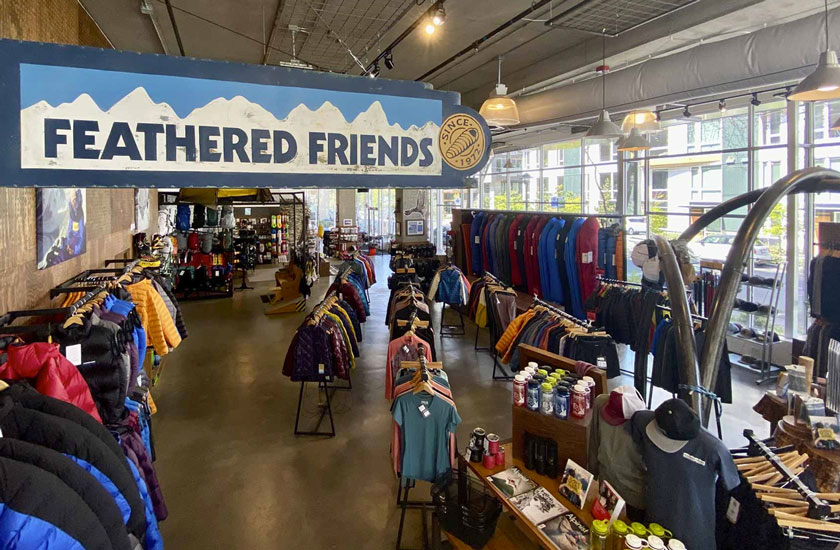 Feathered Friends Sleeping Bag is a handmade product that has been crafted in Seattle since 1972. It is a symbol of simplicity and lasting quality, designed to provide comfort and warmth on every outdoor adventure. The innovative fabric used for the sleeping bag ensures that it retains its shape even after multiple washes, making it a reliable investment.
This sleeping bag has been awarded the Responsible Down Standard (RDS) certificate which guarantees its ethical sourcing. It means that only down from ducks and geese who have not been subjected to any ill-treatment or force-feeding has been used in its production. This certification guarantees peace of mind for animal lovers who are conscious of their impact on the environment.
At Feathered Friends, we pride ourselves on using only premium materials sourced from sustainable suppliers within the United States.
6. Teton Sleeping Bags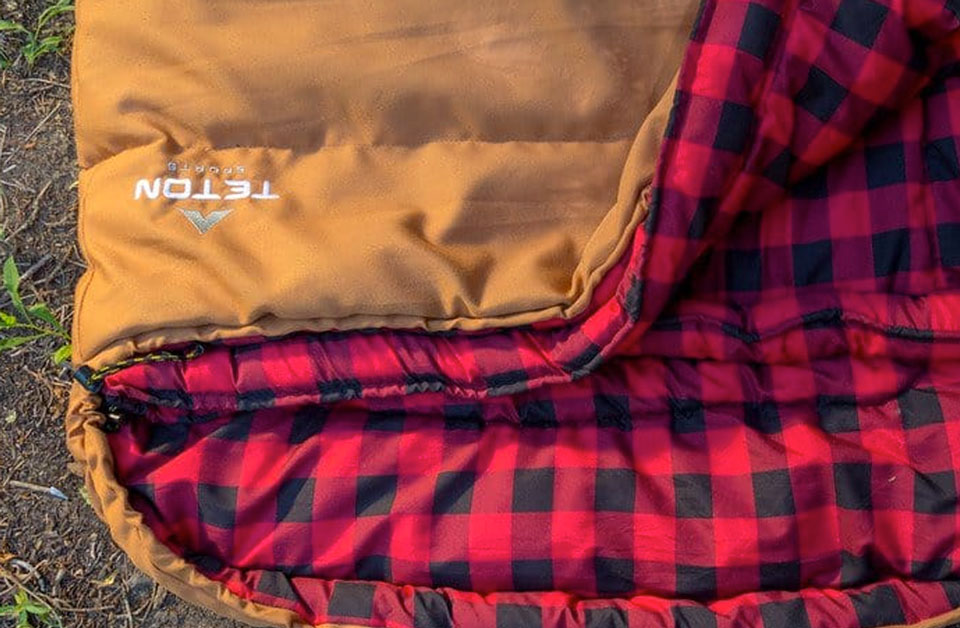 Looking for a high-quality sleeping bag that can withstand even the toughest outdoor adventures? Look no further than Teton Sleeping Bags, based at the foot of the Wasatch Mountains in Cedar Hills, Utah. With a warehouse located in nearby Salt Lake City, these American-made sleeping bags are designed to provide warmth and comfort in any environment.
Teton offers both rectangular and mummy-style sleeping bags, so you can choose the perfect fit for your needs. The rectangular bags are roomy enough to accommodate even the most restless sleeper, while the mummy bags offer a snug fit that helps retain body heat on chilly nights. Both styles feature premium materials such as ripstop fabric and insulation specifically designed for outdoor use.
In addition to their standard line of sleeping bags, Teton also offers canvas options for those who prefer a more traditional camping experience.
Why Buying American Sleeping bag?
When it comes to purchasing a sleeping bag for your next outdoor adventure, there are plenty of options available.
However, buying an American-made sleeping bag isn't just about supporting local businesses—it's also about getting a high-quality product that you can rely on. Here are the details:
1. High-quality materials
If you are looking for a sleeping bag that is both comfortable and durable, then an American Sleeping bag should be at the top of your list.
One of the biggest benefits of buying an American Sleeping bag is the quality of the materials used. Unlike other sleeping bags on the market, these bags are made from high-quality down or synthetic materials that will keep you warm and cozy even in the coldest temperatures.
In addition, many American Sleeping bags come with innovative features such as water-resistant shells and insulated hoods, which make them ideal for camping trips or outdoor adventures.
2. Supporting American businesses
When it comes to purchasing sleeping bags, many consumers may not consider where the product is made. However, supporting American businesses by choosing an American-made sleeping bag can have numerous benefits.
Another benefit of choosing an American-made sleeping bag is that it supports local jobs and the economy. Buying from domestic manufacturers helps keep money within our country while also creating job opportunities for our fellow Americans.
3. Environmental impact
Many American-made sleeping bags are designed with eco-friendly materials that minimize harm to the environment. For example, some brands use recycled synthetic fibers or natural materials like down feathers from responsibly-sourced suppliers.
These eco-conscious options not only benefit the environment but also provide superior insulation for better warmth and comfort during chilly nights outdoors.
4. Compliance with safety standards
When it comes to buying a sleeping bag, there are many options available on the market. However, one important factor to consider is whether the sleeping bag meets safety standards set by the Consumer Product Safety Commission (CPSC). This is where American-made sleeping bags stand out from the crowd.
American-made sleeping bags undergo rigorous testing to ensure they meet industry standard safety requirements. These tests include flammability, insulation effectiveness, and overall construction quality. By choosing an American-made sleeping bag, you can rest assured that you are purchasing a product that has been thoroughly tested for safety and quality.
5. Made for American conditions
Firstly, American-made sleeping bags are designed with the unique needs of American users in mind. These bags are created by professionals who understand the climate and weather conditions across different regions of America.
This means that they're better suited to withstand extreme weather conditions such as cold winters or hot summers while still providing superior comfort and warmth.
What sleeping bag do the Navy Seals use?
The answer lies in their reliance on products from reputable brands such as Therm-a-Rest and Snugpak.
Therm-a-Rest is known for its high-quality camping gear, including sleeping bags that are specifically designed for military use. Their military-grade sleeping bags feature waterproof outer shells and insulated linings that keep users warm even in extreme temperatures. These sleeping bags also come with compressible materials that make them easy to pack and carrduring missions.
Another brand popular among the Navy Seals is Snugpak. Their products are made using advanced technologies such as Paratex fabrics, which provide excellent insulation while remaining breathable.
What is the rating of a US military sleeping bag?
Well, these bags typically have a temperature rating of -30°F (-34°C) or lower. This means that they are designed to keep you warm during extreme winter conditions. However, it's important to note that not all US military sleeping bags have the same rating, so it's essential to check each product's specifications before making a purchase.
One reason why US military sleeping bags have such low ratings is because they are designed for mission-critical situations where soldiers need to stay warm and dry no matter what.
What Colour is best for sleeping bag?
Some experts recommend going with darker colors such as black, brown or navy blue because they absorb more heat from your body than lighter colors like white or yellow. However, other experts suggest that brighter colors like orange or red are better because they help rescuers spot you in emergency situations.
How often should you wash a sleeping bag?
The answer depends on several factors such as how frequently you use your sleeping bag and the type of activities you engage in while camping. If you're a regular camper who spends several nights outdoors every month, then washing your sleeping bag once every season might be appropriate.
However, if you only camp occasionally or during summer when temperatures are mild, then washing your sleeping bag once a year may suffice.
Do you wear clothes in a sleeping bag?
Firstly, it's important to understand that there are different types of sleeping bags available on the market. Some are designed for summer use and may not provide enough insulation if you're camping during colder months. In this case, wearing appropriate clothing such as thermal underwear or fleece layers can help keep you warm throughout the night.
However, if you're using a high-quality sleeping bag rated for cold temperatures, then wearing too many clothes could actually make you too hot and uncomfortable.