Ready to ship your vehicle but unsure what shipping company to go with? Below we'll go into the 5 best USA car shipping companies, the good, and the bad.
Before you hand over your keys to some random company that you've never heard of, check out the transportation professionals below that will take care of your vehicle shipping needs on USA Based.
Let's get started!
1. Sherpa Auto Transport
Sherpa Auto Transport is special in its regard to its insurance coverage. A typical auto transportation company will only have the minimum liability insurance required by law, but Sherpa Auto Transport goes the extra mile and offers $1,000,000 insurance coverage (only $100,000 though for cargo).
One problem though with Sherpa Auto is that they only ship to 48 states and do not ship larger vehicles like RVs. This can be limiting if you want to ship your car overseas or have an RV that will need specialized transportation.
If you want to ship multiple vehicles, you'll be able to get a discount. Another great aspect of Sherpa Auto's model is that they will lock the price given to you at the time of the agreement, so there are no hidden charges.
2. Amerifreight
Ameriafreight offers discounts for the military as well as medical employees, students, and senior citizens. If you're looking for a good deal and you fall under any of these categories, you can get some money off of your discount.
A big downside of Amerifreight is that they don't offer international shipping. They also don't offer additional insurance options which is going to be a big downside for anyone shipping luxury or ultra-modern vehicles.
One aspect of shipping Amerifreight covers is RV and boat shipping, so you'll be taken care of in most instances of any size vehicle you're looking to ship. Go with Amerifreight if you're looking for a good deal.
3. A1 Auto Transport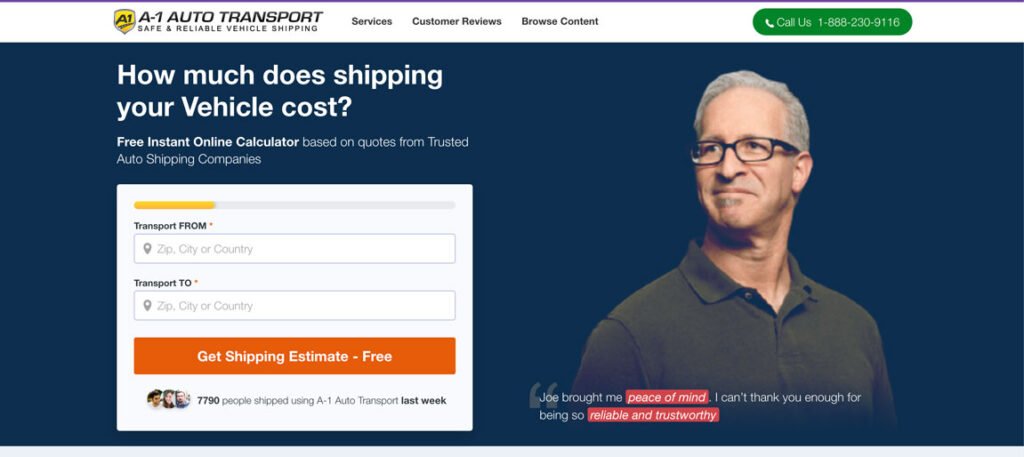 A1 Auto Transport is capable of shipping anything that can fit into a container worldwide. With 190 countries served and over 2 million deliveries, there are many happy customers that have gone with this leading car shipping company.
You can go with either enclosed or open shipping, or even have your vehicle placed in storage with one of their providers. One downside of A1 Auto Transport is that they are a broker which means several other companies, like ShipYourCarnNow and Trans Global Auto Logistics.
The good thing about a broker is that you can get multiple transportation quotes at the same time, and you can also negotiate for a better offer if you end up liking one company over the other.
4. Montway Auto Transport
Montway Auto Transport can ship to all 50 states as well as internationally. Their rates are highly competitive and their insurance coverage goes up to $250,000. If you're in the military, you're in luck as they offer military discounts.
You'll also be able to ship RVs and heavy equipment should you have the desire to do so. One issue with Montway is that the quote you receive is going to be far lower than the price you get at the end. While it isn't uncommon for this to happen, transparent pricing is always preferred.
One issue is that they also don't have any real-time tracking available which can make for some anxiety during the transport. You'll also be locked into a $199 cancellation fee as well and can only ship vehicles, no motorcycles, RVs, or boats.
5. Uship
Uship ships to all 50 states and is able to not only ship vehicles but furniture, pets, full moves, and more. One downside of Uship is that they don't offer international shipping, and the insurance policies are not guaranteed by Uship itself.
The insurance offered by Uship is up to $75,000 for whatever vehicle you decide to choose. It's also not a shipping company itself, but a broker, which means that they hand you off to another shipping company to actually take care of the transportation itself.
The quote you may receive may not be the final price, so ensure that you get a locked price quote before you decide to hand off your vehicle to Uship.
Conclusion
While it may seem simple at first, with so many different shipping companies that offer different services, it's a good idea to read through what they offer before asking for a quote.
It's also a good idea to ask for a transparent quote (which means that you won't get any hidden fees tacked on at the end) to avoid being hoodwinked when your car arrives and you're asked for 2-3x what you originally bargained for.
Always check the reviews of all the companies and ensure that your vehicle is covered by their insurance. Accidents and thefts do happen, and you don't want to lose out on your entire vehicle if something that wasn't your fault happens along the journey.